My 32-3 came with two "quarter round" cabinets, one on the galley side, and one on the nav station side. There might be a better name for them, but whatever they are called, they don't seem very efficient in their use of available space. Besides, they are notorious for disappearing stuff: the PO lost a number of towels and washcloths in the subject cabinet.
I removed the original plywood parts attached to the cabinet door, and built a level floor and rear (outboard) wall inside of the cabinet. I used some 0.032" thick brass sheet to fabricate a couple of simple brackets for a fiddle bar, to create my new technical reference library: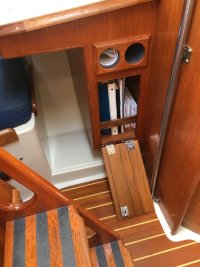 All of my manuals are close at hand, instead of sliding around in various areas, and the cabinet space is put to good use. As a bonus, there are still several inches of useful space outboard of the library, which I might use for a future airplane-bottle booze collection.