Hello again,
I have still been working on the old tub as time and weather allows, I have made some progress:
Firstly, I have been moved outside.
The nice gentleman that sold me the boat and let me work on it in his shop for minimal rent was ready to have his space back, which is understandable:
I have completed the hardware install on the cabin top in preparation for ceiling installation:
I plan to run all mast controls aft, So a mast plate, deck organizers, clutches, and winches have been added. I poked around in the wood core under the mast socket and found no signs of moisture or wood deterioration in the mast support, which was a huge relief. All hardware holes in the entire deck have been drilled out to 5/8", filled with epoxy, then drilled again before parts installation. It was extra effort, but now no balsa core is exposed in any of the fastener holes, hopefully preserving the deck for many years to come.
I found replacement teak hand rails that were the original size and length, but they were $450 each. My checkbook did not like that so I went with the shorter universal rails and installed two on each side. They were on sale for $67 per unit. The old-fashioned stainless steel Garhauer line clutches were also a bargain at $140 per. I doubt I would see any benefit using the pricey spinlock or other modern clutches for my application anyway. I think the stainless looks better than plastic.
Now that the cabin top has all the hardware installed I can start on the ceiling. I do not want to use any wood or foam backed vinyl for the overhead, so I am going with vinyl beadboard planking. It is expensive, but immune to moisture and mold: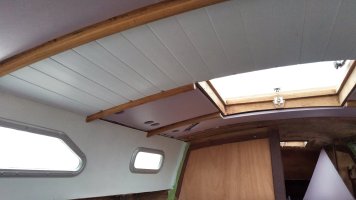 I reused the original decorative teak ceiling beams as firring strips for mounting, with a sandwich layer of foam between. Only one section is done so far, it will probably take another 20 hours or so to complete. Hopefully it looks good when done.
The mast is being prepped for install and it is still set up for wire halyards, I want to upgrade to rope. The mast head sheaves have the wire v-groove in them. The only ones I could find in the right size were $110 each!
Just as an experiment, I chucked one into my mill-lathe combo machine and ran both ends at the same time:
Thats definitely not the way the machine is intended to be used but it worked. the sheaves now have a 1/2" circular groove for rope at no cost.
Thats all that has been accomplished this winter.
I hope all of you are doing well and making progress on your own boat projects, spring is just around the corner!
Last edited: