Some of the old laminated woods on the insides of our '73 E 32-II is finally showing some age and splitting. ...As a fix, I decided to create a simple wood trim strip to attach over it and cover the "sin".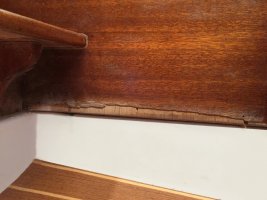 I got ambitious and am taking it a step further to incorporate LED floor lighting underneath for night sailing. With a DMX controller and decoder system, I will have the ability to not only have red but any color one can think of (WHEN I finally get it all programed correctly!
I bought standard sized smooth baseboards and cut them down, then put a radius on the corners not to mention an inner side channel for an angled piece of aluminum channel available with LED systems. (This way, I can get a smooth color effect similar to neon without the dot blotches of color had I mounted them directly outward. Since the original wood sits about a half inch proud to the fiberglass floor/sole, it was easy to leave enough open space for the LED lights to reflect at 45 degrees downward.
The results are excellent giving me my smooth neon color look. (Can't wait to get the whole thing finished up and straighten out the programming issues with the controller giving me a multitude of colors as well!! Fellow boaters at my club laughed a bit at first and asked IF I was going to get a disco ball, but now seeing the results, they're thinking about doing similar projects.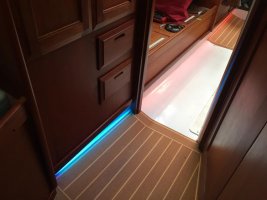 (The last photo shows red in the main salon but with bright sunlight coming through the main salon hatch, it's a bit tough to see it.)
...YES, I am also putting strips on the Port side as well and will post more photos when the project is completed.
Last edited: