E381 - Los Angeles
Moderator
Blogs Author
No, I'm not selling the boat--or the house.
I am just uncomfortable sitting on stuff I will not use, and would like it to find a home.
There are probably thousands of dollars of retail supplies here. All of it is serviceable (no garbage), some has never been used.
The deal is: one person to pick up all of it up from my house in Pacific Palisades. Subsequent to that, of course, folks could work out who needs what. I just can't face dealing with it piecemeal.
Solar system
. Photos shows four panels, one folding, probably circa 2010.
Prostar 15 Controller
and all Nomex included. Two of the big panels have stanchion mounts and are adjustable. Also shown,
Magma Gril
l, complete.
Boarding step
, designed to suspend from gunwale track (fittings included).
...
Bench A: Boxs of
assorted fittings
(blocks, cars), random components, inverter, refrig fans etc.
Bench B: WM bilge pump (I don;t need four of them), many electrical switch, relays etc.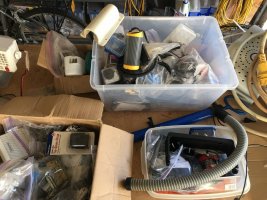 Bench C:
Dehumidifie
r, 20 pounds of random
SS bolts
etc, old
shore power cord
(excellent wire source).
...
Two new spinner
bilge pumps, new in box.
(I still have a Rule 1500 as a backup). The VHF radioo is an
Icom M602
that came with my present boat. Works fine, you just have to like
white
. These once listed for $900, ho ho.
...
Simrad wheel pilot, for parts. Some old Horizon instrument parts.
Send a private message if interested. There is no charge, just take all of it.
Last edited: