Sustaining Member
Blogs Author
$225 + $35 shipping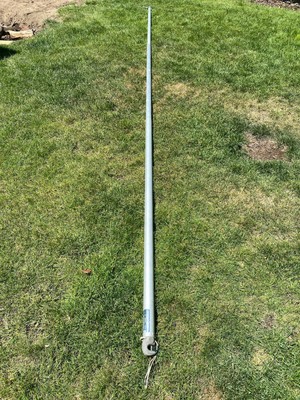 For sale is a Forespar Twist-Lock Whisker Pole part number ADJ 407100 and two Forespar stanchion mount pole chocks. If you're not sure what size pole you need, consult Forespar's chart here "Use no lubricants.
With my boat I inherited a Forespar twist-lock aluminum pole that is better suited to an E27 or smaller than my 32-200. The PO who sold me the boat had an E27 before that, so my theory is that he brought his whisker pole over to the new boat.
Everything works, but without some regular use and cleaning, the sliding aluminum poles will have a tendency to freeze up.
I bought a new set of stanchion chocks in the fall and those are included with the sale. Pick up for free in San Francisco, or I will be down on the Monterey Peninsula before the end of June and could bring with me and drop off for free in San Jose/Santa Cruz/Monterey. Otherwise $35 shipping.
See ebay listing for photos and more details.